Welcome to the Cork Animal Care Society. Charity Reg. CHY14199
The Animal Care Society (Cork), a registered charity, was formed in October 2000. The aim of the Animal Care Society is stated in its name, to try and provide care to animals in Cork City and County that need our help, as far as our funds and facilities allow us to do so. We are almost entirely made up of volunteers who give their time and effort to help animals.
Through our network of dedicated dog, cat and wildlife fosterers we have rehomed over 8000 animals since our foundation. We also operate a help line service dealing with animal welfare matters.
For 2012 our vets bills exceeded €34,000, courtesy of our veterinary guided non-euthanasia policy. In the first 10 days of 2013 we have already paid over 1000. Euro in vets bills, out of total of 2000. Euro
We need your support to continue our vital work.

Please support us by clicking on the donate online now button.
We accept major credit cards and Laser cards, as well as PayPal.
Your help will save a life.
---
---
STOP PRESS:
SEE OUR FACEBOOK PAGE FOR THIS MORNINGS INTERVIEW WITH JACKIE ON TV3 AM. Just click on our FACEBOOK ICON.
AN EVENING WITH JACKIE WEAVER, FAMOUS ANIMAL PSYCHIC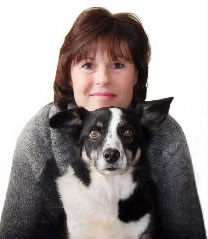 We are delighted to announce a very special evening, to be held on May the 30th in Cork. Famous Animal Physic and animal communicator, Mrs. Jackie Weaver from the UK, will share with the audience some of her secrets in successfully communicating with your Pets. Jackie has kindly agreed to donate all proceeds of the evening to the Cork Animal Care Society!
On the night, Jackie will be explaining how animal communication works, lets' say you have a cat who all of a sudden starts scratching the furniture or a dog that starts chewing the table legs, she will show people how they can find out why the animal has suddenly started doing this. Also, before she comes over, she will be running a competition for somebody in the audience to win a free reading. This will be done from a photograph as the hotel will not allow us to bring animals in. She can do readings from photos, as demonstrated on This Morning on ITV a couple of weeks ago with Philip Schofield and Holly Willoughby. She did a reading on Holly's cat from a photograph, Holly's comments? Spot on!
There are a limited number of tickets available for this once in a life time opportunity so please don't delay securing your place if this is an area which interests you. Order your tickets either here via the on-store, just click here, and we will mail your ticket to you, or via our Facebook Store, or tickets can be also bought at various local outlets. Or you can also order by calling 089-4578655 / 0876408370.
Local outlets: Richard Healy, Westside Veterinary Clinic, Model Farm Road.
Animal Care Hospital, Fingerpost Roundabout, Douglas.
The Cat Hospital, Barnavarna Road, Glanmire.
Petstop, Kinsale Road Roundabout.
Maxi Zoo, Ballincollig.
Petstores, Ballincollig.
For more information on Jackie's work do have a look at her fascinating website: www.animalpsychic.co.uk
Tickets for the Animal Communicator Evening with Jackie Weaver Celebrity Animal Psychic
WHERE: Oriel House Hotel, Ballincollig, Co. Cork. Ample parking available.
WHEN: Thursday, 30th of May, 2013, start 8pm.
PRICE: 10 Euro per ticket
.....And for those of you who want the fully "Monty", Jackie will be running a full day workshop on Sunday, June the 2nd, in the Metropole Hotel in Cork, actually teaching people the basics of how to really communicate with their Pets. Further details on this will follow shortly.
---
---
HOPE FOR THEM? MINISTER SIMON COVENEY TO INTRODUCE MANDATORY DOG MICRO CHIPPING.
Maybe, just maybe are we going to get somewhere ? The minister for agriculture, under whose remit the animal welfare legislation falls, has announced that he will introduce MANDATORY micro chipping for ALL dogs. We are almost afraid to believe this.
We will await further clarification on this and keep you posted. Maybe, just maybe it will help in hemming in the endless stream of unwanted dogs and puppies. Were this to be combined with draconian fines for not complying with the law, maybe, just maybe we are going to see an improvement in the endless misery which irresponsible owners and breeders are inflicting on the dogs of this country.
---
---
HAPPY BIRTHDAY CORK ACS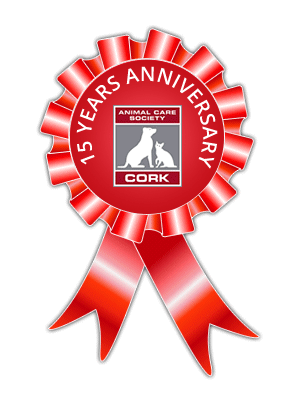 The ACS is now 12 years old. Thousands of animals have been saved by its hard working and dedicated volunteers. Lots of education sessions have been given in schools and colleges and countless letters and appeals have been made to the government, asking for better and humane animal welfare legislation. Thousands upon thousands of phone calls have been answered and lots of emails with help and support to individuals were sent. From the humble beginning in the Kingsley park Hotel where our founding meeting was held to now running a sanctuary with almost 200 animals being cared for.

We pay tribute to YOU, our supporters, who made it all happen. We express our appreciation to Brian Bermingham, of the Cork council who baptised us. It was Brian who coined the name, the Animal Care Society. Brian, we have lived up to what you wanted us to be, and become. A thank you to Felicia Cross and Marian Caulfield, who co-founded the ACS. Finer people will be hard to find. Felicia went back to the USA in 2001 and now runs the largest cat welfare organisation in the USA. See: www.forgottencats.org Marion went to become a fulltime Mum but both ladies never forgot their ACS roots. We thank them both. But the biggest Thank You goes to ALL OF YOU, our supporters. Your moral and financial help made this organisation worthy of its credo: Their Lives...Our Passion. Please be proud of what you have made happen and the lives your help has saved.
---
---
FINN McCOOL, THE MAGIC LEPRECHAUN CAT
STOP PRESS ! The books have gone to print and we are expecting the first copies shortly. The online shop will be updated in the next few days, allowing you to pre-order your copy.
HERE IS AN EXCLUSIVE PRE-VIEW OF FINN McCOOL, THE MAGIC LEPRECHAUN CAT, who has come home to his native country to delight your children (and you too).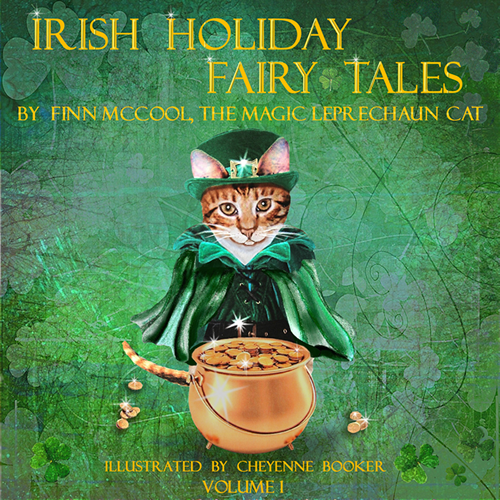 One of our wonderful supporters, Mrs. Karen Lynch of Tampa Florida has offered the Cork ACS the golden chance to publish her Finn McCool stories in book format. At this time, there is only ONE copy of this book in Ireland and it will be on show at Hanley's Garden centre at the Kinsale roundabout this weekend (13/14 October) for all to see.
To wet your appetite, see one the stunning illustrations which grace this book. The stories are woven around St.Patricks day, Halloween and Christmas and are superbly written by Karen Lynch. Don't take our word, come and see them for yourself. Although aimed at children, the stories have found universal acclaim with adults too, each story cares a special message which conveys the message that " He who does Good will meet Good and be rewarded.".

This beautiful book is locally printed by Aidan O'Mahony of Omah Printing in Wilton, Cork. Sale proceeds of every single copy sold will go in support of the charities Finn supports so your money will directly and exclusively benefit the work done by Finn's nominated animal welfare charities. First copies are expected to be available at the end of October, or first week in November.

Copies of the book will be for sale via our online store and as we are printing only a limited number, we strongly recommend that you order as soon as we announce the availability here on our website. The price will be under 10 euro and the beauty of the illustrations alone makes it worth buying. For Cork people, they will also be on sale locally in Pet Stores and veterinary surgeries, a list of outlets where to buy your copy will follow in due course.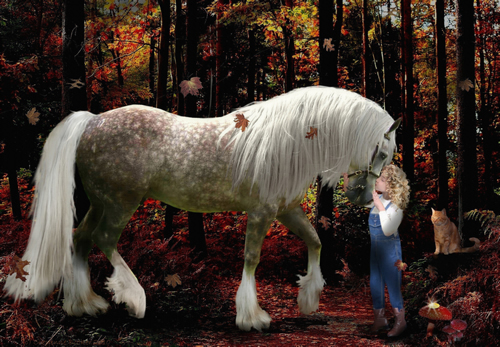 ---
---