Success Stories

Update on Wobbles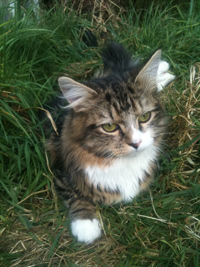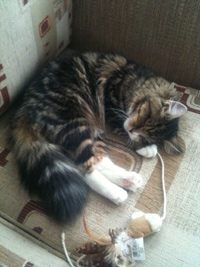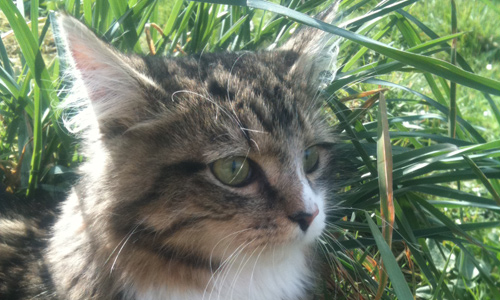 Remember Wobbles, the kitten with the Cerebellar Hypoplasia? (click here to read her original story) Well, it has been an eventful couple of months with our Wobbles. She continues to grow into a beautiful young cat but that did not go without some hair-raising moments. In addition to her Cerebellar problems, we found that Wobbles (Lady Wobbles) suffers from Dysphagia. ( See http://en.wikipedia.org/wiki/Dysphagia
Putting it simple: People and animals who suffer from this condition are prone to getting food, or liquids, into their lungs, instead of going down into their stomachs. If that happens the animal (or person), as the case might be, will develop aspiration pneumonia. See: http://en.wikipedia.org/wiki/Aspiration_pneumonia if you are interested.
A month ago exactly that happened and Wobbles during the night took a dreadful turn for the worse. Thank God, vet Clare Meade of the Cat Hospital was on duty that weekend and there is absolutely no doubt in our minds that it was her care and immediate action which saved Wobbles life, as she was within half an hour of dying. Instantly upon arrival Wobbles was placed into the Oxygen tent and given intravenous drugs to stabilise her breathing. The story of her treatment is too long to be written here in full but suffice it to say, Clare and her staff saw Wobbles thru her acute crisis and after a week of intensive care, Wobbles was well enough to go home again. Clare, we pay tribute to you, your professionalism, skill and quick thinking saved a small life. For those of you in Cork City and County, see www.thecathospital.ie and you'll understand why we are blessed to have the only cat hospital in the Country here in Cork.
For the Wobbles Fans amongst you, here are some photos of the Lady (Miss handful, as she is a LOT of work). Enjoy !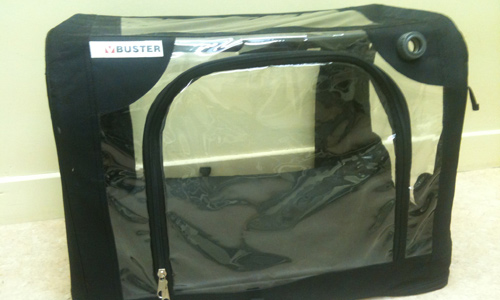 The Oxygen tent which saved Wobbles life
---

A special story about a lovely cat called Spider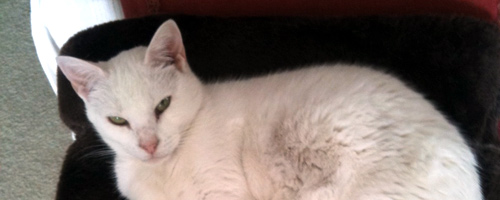 Spiders home was a wheelie bin. Yes, a wheelie bin with a hole cut into it. Outside in the cold and the rain. Only, the hole was too small and Spider with her 3 small tiny kittens could barely get in and out. Not only that. Spider was asthmatic and in a bad way. But inspite of that, she was a fantastic Mum and cared for her kittens so well. But sometimes animals can have a Fairy Godmother who hears their soundless cries for help. The ACS heard about Spiders plight and she came with her kittens into our care. Anne from Hillview sanctuary took her under her wing and not a moment too soon. Spiders asthmatic attacks were vicious and it is true to say that without the superb care, given to her by Anne and Vet Gavin Russell of the Riverview Clinic in Bandon Spider would have long been dead.
Spiders care is 24 hrs. a day, you never know when the next asthmatic attack will leave her gasping for breath and turning blue. We have a special facemask and applicator for her thru (see the photo) which we can use to administer an emergency drug to help her while one of us tries to set a new speed record to Gavin at the Clinic.
Spider can never be rehomed, unless to a person who lives close to a Vet and is home all day long as her attacks can strike without warning. Spider will soon be in our Sponsor a Pet Program as that one in a million home is very unlikely to be found and who wants to take on a cat who comes with truly enormous vets bills ? But to us Spider embodies all we believe in: Her Life.Our Passion.
Please help us by donating a few Euro towards her care, her bills have been huge, just click here.
---
ALBUS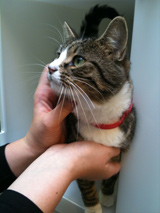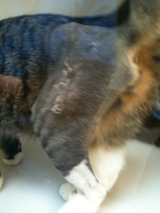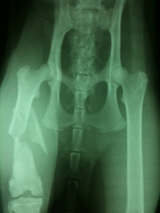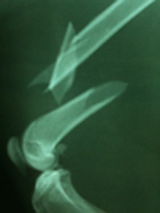 Albus is a really pretty friendly little cat. She first came to The Cat Hospital in April of this year as a five month old kitten and she was already one month pregnant! Her owners could not believe that such a young kitten could get pregnant. The owners decided to have the litter of kittens and then have Albus neutered as soon as possible to avoid any more unwanted litters. Albus was a great little mother and her kittens did very well and were all given to loving homes. Albus had her neutering operation at the end of June and recovered really well.

We did not see Albus again until one morning in early October. Her owners telephoned to say that Albus had gone missing for 6 days and had just limped back into their home starving and exhausted. They brought her to The Cat Hospital immediately to establish why she was limping and whether she had any other injuries. Albus could not put any weight on her left back leg and she was very thin. When we examined her sore leg it was obvious that there was a very serious injury to her femur – the main bone of the leg. Albus needed to have some x-rays taken to establish the severity of the leg injury and also to make sure she had no other injuries to her vital organs. We gave pain relief to Albus immediately, as she had suffered for long enough.

We took some x-rays of Albus that morning only to find that her femur was badly fractured and not only that – it had begun to heal in a very abnormal way. If nothing was done Albus would be disabled for the rest of her life. The owners understood the seriousness of the condition but financial circumstances at home meant that the orthopaedic surgery to repair Albus's leg was out of the question.

Lesley the nurse at The Cat Hospital telephoned Albert at the ACS and explained the situation to him. The Cat Hospital was happy to reduce the fees as much as possible to help little Albus and Albert agreed that the Animal Care Society would pay the shortfall to allow us to go aheaad with the operation. Albus had her operation the next day. She needed lots of pain relief as the operation to re- break and set her femur was very painful. We placed a stainless steel pin into her leg bone and placed more wires to prevent the bone from moving while it healed. She recovered really well from her two and a half hour long operation over the following 24 hours. She ate a small meal the evening of her operation, but we knew she would be fine when she started howling for her breakfast the next morning!!

During the following week Albus stayed at The Cat Hospital receiving pain relief and rest. She never resented the nursing attention she got from Lesley and Diane when they needed to check her wound or the mobility of the limb. She was always clean and tidy in her bed as if she wanted to cause as little trouble as possible to the people who were helping her. We all fell madly in love with Albus. She has a slight little defect in her upper lip which makes her even more adorable.
Albus went home with her owners under strict instructions to rest her for the following 5 weeks. The rest is an essential part of the process as the bone still needs to knit properly, her stainless steel implants are just a scaffolding to hold everything in position while it heals. We may need to remove her implants after the 5 weeks, but as ever...I am sure Albus will go with the flow and assist us in every way she can, just like the ACS did for her.
---
Ben, the St.Bernard sends his greetings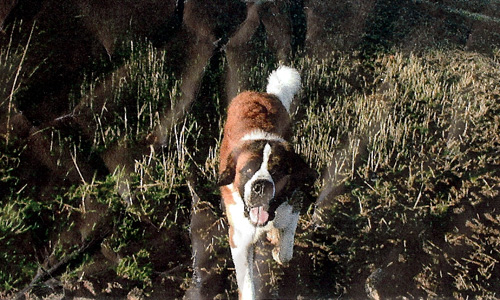 Would you believe that we had trouble recognizing Ben ¾ of a year later when these photo's were taken? Ben was rescued by the ACS and trust us, he bore no resemblance to the beautiful St. Bernard you see here. Filthy, hungry and his coat matted what was best described Ben. He was only 11 month old and a full pedigree dog. Well, to cut a long story short, Ben's luck changed BIG TIME. Working through our wonderful friends at the Blue Cross in the UK Ben was found an absolute super home, a farm with over 300 acres is what Ben calls home these days. As you can see, we have one pretty relaxed gentleman St Bernard here and long may it stay that way. Take care Ben, you will be remembered as another Rags to Riches story.




---

Hidden Dangers in your home & Garden?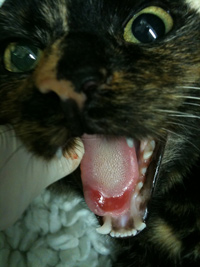 Ever bitten on your tongue? Painful isn't it? Well, imagine if you had a piece missing. Just imagine how that would hurt. When our cat trapper, who was working on a TNR job for us, got this cat she was in a bad state. Unable to eat and in awful pain.
The photo you are looking at was taken after 2 weeks in the Vet! This cat was one of 4 kittens from a Mum who arrived at the door of a kind and compassionate woman as a stray and it goes without saying, heavily pregnant. Mum was skin over bone and urgently needed good food, warmth and care. This lovely lady took the mother in and allowed her kittens to be born at her house and she cared for them and Mum. It goes to prove that kindness and compassion are still alive and this foreign lady showed an example to us all. The Vet spend a huge amount of effort on her to try and get her to eat and to try and bring the infection under control. Bit by bit she started to improve and after 2 weeks was well enough to go home to her siblings and her Mum.
If you wonder where your donated money goes, here is but one of the countless examples of what we do with it. She cost the ACS 201.15 Euro and that was at a much reduced rate as this particular vet is an out and out animal lover and believes in giving something back to animal welfare. For us to help save the likes of this extremely affectionate cat (all who met her remarked on that) we need your help. PLEASE donate a few euro to us so that when the next animal comes round, we have the money to save their life. We cannot function without your help. Money saves lives and you can be part of that wonderful feeling that YOU made that happen. PLEASE HELP, click on this link now. Every cent helps.
---
Happiness does exist and so do good people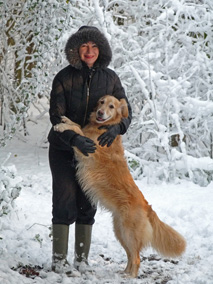 Look at him. Rescued many a year ago by the ACS. If this picture portraits anything it is Happiness and it shows that it can and does exist.
Nigel and Karen fell in love with Lacey and flew over from the UK and adopted her from the ACS and took her back home. We've nothing else to add. It proves two things to us and hopefully to you our reader too: Happiness does exist and good people do too. Thank you Nigel and Karen. Lacey proved that you can go from Rags to Riches.




---
THIS IS WHY YOU SUPPORT US !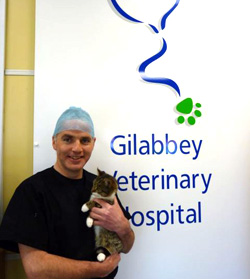 The call came on Saturday, early afternoon from Tim the Vet. I have a badly injured kitten here, and I wonder can you help ? What's up Tim we asked ? She has been run over and is badly injured. I can stabilise her but this will require an extremely good orthopaedic surgeon and I recommend that Shane Guerin, MVB MACVSc Cert SAO DVCSc Dipl ECVS MRCVS undertakes this surgery. Our volunteer, yes, it was a volunteer, turned his car, drove to Tim's place and after initial painkilling treatment collected the little girl and drove our patient to Cork.
The Gilabbey Clinic has a well established reputation as one of the finest animal hospitals in the country and their reputation is well known and well deserved.
See their website on: www.gilabbeyvet.com and you will see what we mean.
X'rays confirmed our worst fears: she suffered from very severe injuries: Rear leg broken in three (3) places, femur badly fractured and Ileum fractured. She needed the finest surgeon which there was and Shane was there for her. Her lengthy operation took place earlier this week and was complex. Pinning and plating amongst other methods were used by Shane to try and ensure that after recovery she once again would be able to enjoy life to the Full. And so it happened. "Little Durrus" stole the heart of the Staff at Gilabbey, just like she had stolen our hearts. We hope she will be released tomorrow for her lengthy recovery period and we will keep you updated. The price for her operation ? Does it matter ? Remember what I told you ? The finest surgeon in Ireland worked on her. But this surgeon is also a most compassionate human being and he will look after the ACS.
So... there you have it. This is exactly what we do with YOUR HARD EARNED MONEY, we have no company cars, no big lunches, no hotel bills, we spend YOUR money on what we believe in. Their Lives.Our Passion. And our motto is shared in FULL by surgeons and staff at the Gilabbey Veterinary Hospital alike, as well as the many other vets we work with. Shane. way to go.. you will never know our gratitude but from "Little Durrus" we say this: THANK YOU SHANE GUERIN for saving my life.
---
Miss Lady Jackson & Harvey


Meet Miss Lady Jackson & Harvey, Pals extraordinary. Both cats rescued by the ACS ( amongst the many many others) and rehomed to a wonderful new home. They are neutered and micro chipped, wormed and flea treated.. in short.. the works. This is another Rags to Riches story with a Happy Ending. Way to go guys !




---
Cruelty takes no break !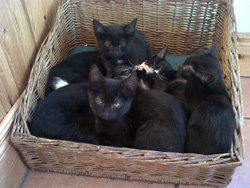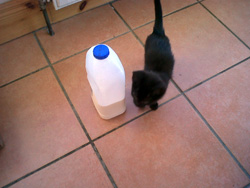 Look at the photo's. No, you can't see them all, the box isn't big enough. There are TEN (10) of them. Here is their Story: A lovely lady, walking her dog on a beach near Kinsale heard strange crying noises. Upon investigation she found a box, on the beach, close to the waterline. The box contained 10 kittens, some with their eyes still blue. They appeared to be from two different litters. If you are an Irish reader of this website, you will know that the weather has been bitterly cold here.
WHO IN GOD's NAME put them there ??? What did this "person" think ? What did he hope for, Death by Starvation ? Death by Hypothermia ? Death by Drowning ? One thing is clear as crystal: They were not meant to live. The air temperature was way below zero degrees and a small kitten will not last long. Our wonderful lady, we call her Maggie, took them home and called us for help and advice. That act from a kind and compassionate real human being is saving their lives. To the "being" that put them there to die we say: May be done onto you, as you had done to them.
To Maggie we simply say this:
Maggie, your love and compassion will not go unnoticed, YOU made their Lives...YOUR Passion and when we are all called to account for what we did in this life, they will be there to speak for you.





STOP PRESS, UPDATE ON THE BEACH KITTENS !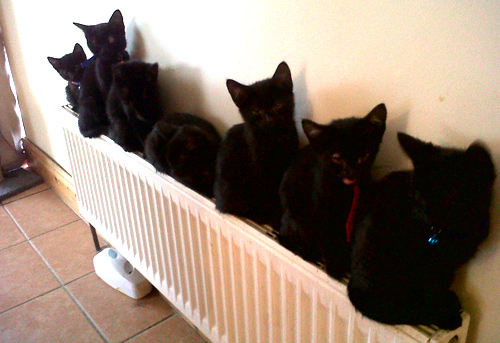 Well, look at them !!! WE have to tell Maggie to get a bigger radiator, God only knows how she got 7 of them to sit still long enough to take this lovely photo. It just goes to show. ONE KIND AND COMPASSIONATE Human BEING CAN MAKE A WORLD OF DIFFERENCE. Do we need to say more ?
---
LOOKING BACK OVER 2009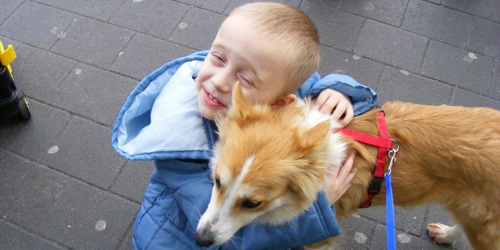 "The worst sin toward our fellow creatures is not to hate them, but to be indifferent to them: that is the essence of inhumanity." - George Bernard Shaw
It is hard to capture 2009 in words. For all Animal Rescue Groups in the country it will go down as one of the harshest years we can all remember. It was the year of cruelty, neglect, abandonment. But it was also the year in which due to the superhuman efforts of Rescue Groups country wide more animals than ever were saved.



The stories are so many and varied and we would need 101 Home Pages to even begin to reflect on them. So, we are giving you an overview through the means of photo's and were possible, give you a link to the original story. Please take a moment and read the ones which interest you. Christmas is a time for reflection. Christmas was not just meant for humans. Our animals too want warmth, affection and food in their stomachs. It is but a short 150 years ago that your great great grand parents were dying of starvation, the many famine graveyards pay a silent tribute to their dreadful suffering. But many of our animals are facing the same fate in 2009 as your great great grandparents faced in 1850. YOU, the reader CAN MAKE A DIFFERENCE, DO NOT walk casually past a starving animal. DO SOMETHING ABOUT IT. 150 years ago, that could have been your relative dying there !



But 2009 also brought out the best in people. See the courage and bravery displayed by ordinary humans who risked their own lives to save our animals.

See this link: https://www.animalcaresociety.ie/success_stories.htm#press1

From all of us in the Cork ACS, we wish you a Peaceful Christmas, may your Happiness be extended to all the Animals who will cross your path.
---

The true story of Karl-Odin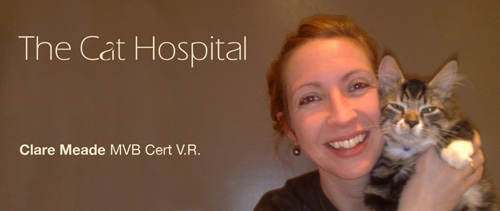 The story you are about to read was written on our request by Clare Meade of the Cat Hospital in Glanmire (Cork). It is a story of where our hearts overruled our minds. Please do not ask why, we have no answer. Logic dictated that Karl should have been put down the minute he came in. Our hearts decided otherwise. Read the story and choose for yourself. Cold logic, or deep compassion. You decide.
Odin ....the luckiest cat in Cork!
The Cat Hospital started working with the Animal Care Society in June of this year. We have seen many cats pass through the hands of the rescue, fostering and re homing teams at the Animal Care Society. The care and dedication shown by the volunteers at the animal care society is extraordinary. There is virtually no limit to what the people at the Animal Care Society will do to rescue an animal in distress. Finding good loving homes for these animals can sometimes be a challenge especially when they are no longer young and cute.
One very memorable patient was Odin. Odin was rescued by a young lady in Kent train station in Cork city. Returning from trip to Dublin she spotted a thin, elderly and miserable looking cat on the platform ...just sitting there as all the other commuters rushed past. Luckily for Odin she did not rush past, she picked him up and took him home to her apartment. Once she got him home and fed she contacted the Animal Care Society to help her as she had a dog herself and a cat who was none too happy about the new arrival!
The Animal Care Society offered to help her and advised to bring Odin to The Cat Hospital for assessment. Odin arrived in with his rescuer early one morning and Lesley the Nurse and I saw a pathetic little soul. He was a product of years spent fending for himself on the streets of Cork. His right eye was permanently disfigured (hence his name Odin, he was stiff and lame and he had fleas, lice, ear mites and a severe ringworm infection!! He was a full Tom cat of advanced years and as we expected when we tested him for feline AIDS, sadly it was positive.
Things did not look good for Odin – a homeless, old, aids infected cat. Once again Odin was a lucky boy, The Animal Care Society were determined that he would have a shot at a better life. Albert instructed me to make sure that Odin get the best of treatment for his many and varied ailments. Odin lived here at The Cat Hospital for over three weeks as we built up his strength so he could withstand the anaesthetic required to neuter him while Albert and the team worked hard to find that one special person who could offer Odin a loving home to enjoy his remaining years.
While Odin was here everyone would comment on his extraordinary personality. Odin has a presence and confidence we rarely see in street cats. He loves company and would tolerate any veterinary intervention (even ear cleaning) just to get an opportunity to be with people. He enjoyed his food enormously and I don't think he will ever believe that the food is going to keep coming. He celebrated the arrival of every meal as if it would be his last! He was tolerant toward other cats and curious about everything around him.
Trying to convey this to a potential owner is so difficult especially when the cat also has so many problems. With plenty of perseverance eventually Odin's soul mate was found. Two weeks ago Odin moved into his new home. He came back to visit us this morning and he is unrecognisable. He has a beautiful glossy coat and he has gained 25% of his body weight – weighing in at a healthy 5kg. He still has his remarkable confidence and love of people, but at last he can give all that love to one very special person ....and get that love back.
If Odin could talk he would say a huge thank you to The Animal Care Society for giving him an opportunity to see what life is like 'on the other side of the tracks'!
Clare Meade, The Cat Hospital, Glanmire, Cork
Tel: 021-4824601
---
House of Horror
Follow the updates
» Stop Press 1 » Stop Press 2 » Stop Press 3 » Stop Press 4
The ACS received an email on Sunday, saying that cats and/or kittens could be heard piteously meowing. The meowing seemed to come from a building which many months previously had been gutted by fire. Our lead volunteer immediately went down to scene but could not gain access. She tried to push food thru a tiny 1 inch gap in the door. Working with the Garda and the building's owner we were able to gain access to the building the next day. A scene of utter devastation greeted our volunteers. Moving around in the dark building had to be done with extreme caution as the floors, or what remained, where extremely dangerous and likely to give way under their weight at any time. Water was still leaking from broken pipes, broken glass everywhere and a smell which made you want to throw up. The photo's show you some of the better parts of the building. Several areas were considered too dangerous to go into but one of our team did so, risking his own life to check them out.
Our volunteers saw dreadful things and we decided not to put these on this website. This is the ACS website and not some House of Horror place. We only show you a rectangle and a crossed diagonal with the words inside it. We wish to acknowledge the work of these volunteers who risked their own lives to try and save others. They are exceptional people and no praise can do them justice. They live their lives in our very own words: Their Lives... Our Passion. We are still working in the building and will do all that is in our power to save what we can. No, we cannot help everyone, and save every life. But there is no shame in failure. The shame lies in not having tried.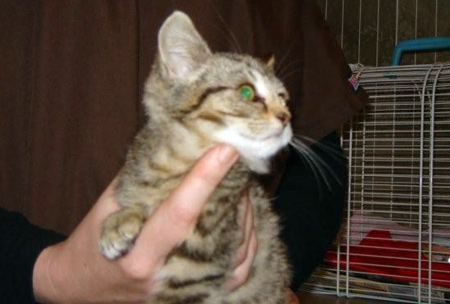 Stop Press
Small kitten found alive in this hell - we have named Helena. Pictured above is Helena in the hands of Clare Meade, the wonderful vet from the cat hospital in Glanmire.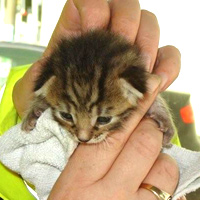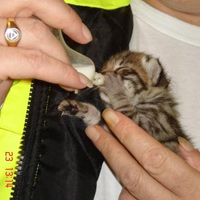 Stop Press 2
We have just found a second survivor - a tiny kitten we have named Polly Pocket . Estimated at about 10 days, Polly pocket seemed an appropriate name since Anne had to carry her out of the building in her pocket due to her hands being full! Pictured above is Polly Pocket in the hands of Anne of the ACS.

Stop Press 3 - 4 more found
The following report is just in from Anne at ACS
"I went back this evening and was greeted with the following kittens. Their eyes are sunken andthey have a gaunt look about them. I have cleaned them up the best I could and have given them a feed, they were covered in there own toilet and some of the food that I had been leaving down all 4 are huddled together. They are so hungry, I have given them 10mls each of kitten milk. They would take more if it was offered but I do not want to over load them. They are not even meowing they are so weak.
I hope help did not come too late for them. I will keep them warm and feed them little and often, and pray like hell. Please tell me why little kittens have to suffer like this. I shutter to think if the ACS ever folds how many of these little lives will be lost."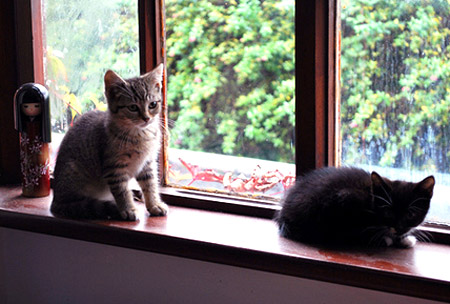 Stop Press 4
Remember Helena ? See STOP Press. Well have a long hard look. Yes, it is her, with her friend Sooshi. Unbelievable ? Well, the picture does not lie. She was adopted by Emma and her husband last week. Words fail us. Just look at the pictures from where she came. Now look at the picture of where she is. Can you imagine ? Can you really ? Emma, we cannot thank you enough for taking her. Emma and her Husband are captured in 4 words: Helena's Life...Their Passion.
We leave you with these words of St. Francis, the Patron Saint of Animals:
"If you have men who will exclude any of God's creatures from the shelter of compassion and pity, you will have men who will deal likewise with their fellow men." -
St. Francis of Assisi
....And so the story ends

Today proved one thing: The Animal Care Society deserves its name. EVERY REQUEST made to the CSPCA, the police, the fire brigade, the civil defence and a local welfare organisation was turned down or did not have the required result. At 12:45 today I heard about this story over the local radio from one of our volunteers but I was 50 miles away. By 6 that afternoon 8 of 9 was down, and on his way to the Vet.
I am proud and none of you will ever truly know. A team of the most wonderful people made this happen. Our Anne who helped coordinate, jennie who nearly threw up when she found that she had to go into basket, Pat and Brian of Murphy Crane Hire, Michelle and her husband Greg and Greg's Dad Dennis. Shaun of Clonakillty Tool Hire who offered his 54 foot "cherry picker" and pulled it off a local building site to help me, but sadly it was nowhere near high enough. The local police (officer Eamon) who helped to close the road, and the bystanders who applauded when 8 of 9 was in his basket.
To them I say: God bless you for you were humans who proudly too wear our accolade: Their Lives...Our Passion.
All photos to be credit to Ger O'Sullivan who took them and credit to him and his wife Michelle and Dad Dennis for going on air. As they say.. the rest is history.
---
Meet Louie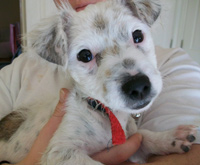 I'm Louie, how do you do ? My story... I'm not sure.. really ! I was found by an ACS member near Blarney..., with a small plate of food next to me. That wonderful lady who picked me had seen me at edge of the road.
I was riddled with fleas... can they bite ! and full of mange. But... that did not stop her. She took me home, gave me hug and told me that my life would never be the same again. Boy, was she right ! Good food, a warm bed and companionship from her dogs and all the love, hugs and cuddles I can handle. The ACS? in my own words ? There ain't no better crowd!


---
Meet our Skippy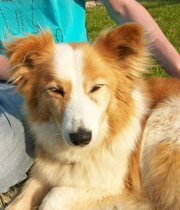 Hi There, glad to meet you. Yes, my name is Skippy ( The ACS folks called me Very Very Lucky Skippy ! ). Here is my story: A lovely ACS volunteer (
Nathalie) , during their recent Cork City street collection saw me dicing with death (Traffic) on Patrick's Bridge in the middle of the city !
Nathalie, our volunteer, quickly snatched me away from in front of a bus and took me down to the ACS ambulance which was parked in the middle of Patrick street.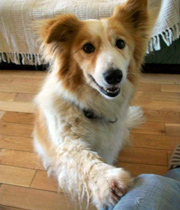 The ACS folks gave me the most delicious doggie food sachets to eat and water to drink and to show my gratitude, I helped them with their street collection ! A nice ACS fosterer called Liz took me home that night while the ACS started to search for my owner. A few days later, that was achieved but my owner said that she preferred not to have me back as she could not look after me. So... the search for my forever home started and yet again my luck held, a lovely lovely Lady called Noreen adopted me ! I can't make up my mind now, should I be called Lucky ? or Skippy ? Or perhaps best of all ?
Lucky Skippy. You decide. Xxx.



---
MEET SPARKLE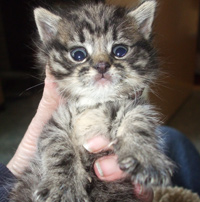 The call came in like this: Hello ? Can you help ? My husband found a kitten in our local graveyard and I wonder what the best way is to put it down. The caller suggested several methods which we will not repeat here. Suffice it to say that Sparkle, as her ACS foster Mum has called her, is now safe. When we got her we doubted if she was going to make it but now we have hope.

Sparkle was one of 4 others who's dead bodies were found in the graveyard.
We will never understand why the Feline Spirit decides to touch a small helpless kitten and decide that it shall live. Her siblings have now crossed the Rainbow Bridge and that is where we will meet them again. To the "humans" who left the litter there we say this: It shall be done onto you, as you did to them.


---
Meet Mini and Skip and their escape from certain death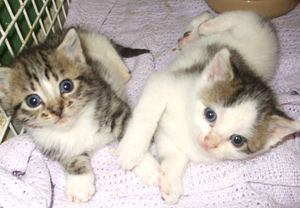 Wednesday lunch time we got a phone call from a kind person who works in a local hotel telling me that he had seen a cat jumping into a skip with a kitten in her mouth. Our volunteer explained that she was just completing another job but would call out as soon as possible. Our Volunteer and friend arrived on site and climbed into the skip thinking that it would be just a case of just moving a few bits and getting the kitten and be finished but sadly that wasn't going to be possible. The photo of the skip shows why not, it was full, building rubbish, broken glass, you name it and ready to be emptied. Since our antics had drawn quite a crowd our volunteers decided to come back later that evening when it was quieter.
As the skip was going to be emptied the next morning our volunteer needed help and needed it very badly. She put out an emergency on-line appeal and within 20 minutes a gentleman called Greg offered his help. Working throughout the night our volunteers emptied the skip bit by bit to try and find the kitten. Hours went by and just when they were getting tired and dejected a tabby kitten in good condition was found, non the worst for her ordeal, and within a half an hour we found a second kitten !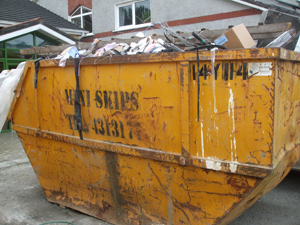 They were rushed home and cared for and back our volunteers went, and carefully listened for a long time if more kitten sounds could be heard. After half an hour they decided that it was unlikely that there were others and the enormous job of putting all the rubbish back into skip was started. Our volunteers finally left the site at 06:00 am, having worked virtually non-stop since 9 pm the previous night so that these two small defenceless lives might be saved. We now are trying to catch the mother so that we can care for her too. The ACS wishes to express its deepest appreciation to Greg and Linda, we can't thank you enough for all the help you gave last night and because of your prompt action we were able to save two little lives.
To Anne, our tireless lead volunteer who took the call and organised the rescue we say: ALL OF US ARE PROUD OF YOU. The kittens were named Mini and Skip and know you know why.
If that skip had been emptied these kittens would have died a horrible death. The Cork ACS carries as its motto: Their Lives...Our Passion. We hope that you, our readers, agree that it is what we stand for.
---
How do you do ? My name is Russell..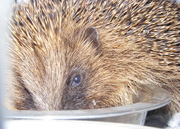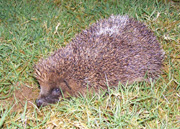 This is Russell. Russell was left, caught in a football net, for three days before anyone thought to ask for help on his behalf. Within half an hour of hearing his plight, he was cut out and on his way for a veterinary check up. Apart from being cold and starving amazingly he was otherwise in good condition. I was worried about one of his front legs being damaged from the angle he had been caught but thankfully it was only bruised and nothing was broken. After a couple of days of good food and rest, Russell was released in huge vegetable patch so he could eat all the slugs he wished.
Russell's story yet again illustrates how dangerous rubbish, like nets, empty plastic bottles, empty food cans, etc. can be. Russell would like to thank John Norton M.V.B. for treating him, Jennifer for caring for him and Didi De Vries for his new, football free home. Their Lives...Our Passion means just that, ALL creatures, great and small.
---
To our Success Stories Archive (Full of interesting stories!)
« Older Success Stories
back to top