Make A Donation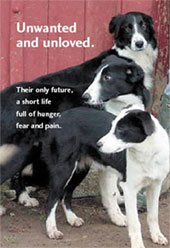 It is through YOUR kind donations that the ACS can continue caring for abused, neglected and abandoned animals. In 2014 our veterinary expenditure alone exceeded €40,000. The sanctuary food bills exceeded €30,000. We desperately need your support to continue our work. No matter how small, every cent helps. Your contribution saves lives which otherwise would be needlessly lost. We are most grateful for your financial support. By helping us, you too can proudly say: Their Lives My Passion.
Please note that every cent of our income and expenditure is verified by our treasurer Brian Foley of OTF accountants, Brian is chartered accountant. In turn, Brian's work is audited by Cuddy, O'Leary and Foley, Chartered accountants and auditors who annually submit all our accounts to the companies office. When you donate to us, you can do so in the full knowledge that YOUR money is used to save lives which would otherwise be needlessly lost.
Your support saves lives. Be part of something positive!
When you decide to donate money to us, or place an order with us, you are automatically connected to our secure server using SSL encryption technology. This ensures that the order information you send cannot be read by anyone apart from our order fulfilment team who receives your order or donation details. To check you are in a secure area of our site please look for the closed padlock symbol in your browser. Your credit card details are not seen or stored by us. They are directly processed by RealEx, one of the largest and most secure payment processors in Ireland. RealEx processes credit card transactions for many of the major retail chains in Ireland. This allows you to donate, or order goods, in the full confidence that your personal details are fully and totally secure.
1. Donate OnLine
| | |
| --- | --- |
| | We accept Laser, Visa, MasterCard and PayPal |
2. Donate by Text
A SPECIAL MESSAGE TO ALL THE PEOPLE WHO SUPPORT AND LIKE US.
Folks, today is a very very special day. Our Comreg license to solicit donations by text has been issued. Why is this so very important to us? As you, our supporters, know Their Lives…Our Passion, is what we live or die by. Those of you who have been at the sanctuary have seen first-hand the exceptional care which is put into each and every animal which... comes here. But that carries a price: Massive veterinary and food bills, vets alone cost the ACS over 40000 euro in 2014. Unless we can raise significantly more money, the Cork ACS cannot survive and our mission will come to an end. `
But with your help that can be avoided. PLEASE spread the word and help us by using this new fundraising facility. With your help, we can survive and save lives. Without it, we die and so do the animals we could have rescued. We have over 5000 euro in unpaid vets bills but with your help, we can clear those. By using your mobile phone to donate just €4 by simply texting the word CACS to 50300 you too can proudly say: Their Lives... My passion. You will receive a text back from 50300 acknowledging your donation. Thank you so very much.
TEXT CACS to 50300 to donate €4. 100% of your donation goes to the Cork Animal Care Society across most network operators. Some operators apply VAT which means that a minimum of €3.25 will go to the Cork Animal Care Society. Service provider: LIKECHARITY. Helpline: 0766805278
3. Donate by Ammado
4. Donate by Standing Order
All our efforts are now being concentrated to expand our sanctuary facility. We will have to demonstrate to the Bank that we can re pay the mortgage we will be asking for and for a small charity like ourselves that is a real challenge. If there ever was a time that we need extra money this is it. Please consider supporting us with a regular standing order donation. No matter how small, every cent helps.
PLEASE NOTE: If your donations to us exceed 250 euro on an annual basis, we can reclaim the tax on this, at no cost to you whatsoever, thereby significantly increasing the value of your donation to us. See our standing order PDF file for more details, just click the link to download it.

Download the standing order form (PDF)
We need people to distribute standing order forms at their place of work. If you are able to do this please contact us today.
5. Make a Lodgement Directly into our Bank Account
Current Account Bank Account:
This account pays for the everyday expenses the ACS incurs such as vet bills, kennelling fee, animals food etc. If you would like to contribute to this account please use the details below.
Account Name: Animal Care Society Current Account
Bank: Bank of Ireland
Address: Wilton, Cork, Ireland
Account Nr.: 95825290
Sort Code: 90-28-05
IBAN Nr: IE34BOFI90280595825290
Bank Identifier Code: BOFIIE2D
6. Sanctuary Appeal:
This account was set up for funds raised and donated to the ACS in aid of our sanctuary appeal. It is our dream to buy our own land and build a proper ACS shelter that allows us to care for many more animals than we are able to do now. Please support us in making this dream come true and make a donation today. No donation is too small.
Account Name: Animal Care Society Deposit Account
Bank: Bank of Ireland
Address: Wilton, Cork, Ireland
Account No.: 22060688
Sort Code: 902805
IBAN Nr: IE34BOFI90280595825290
Bank Identifier Code: BOFIIE2D
back to top