Make A Donation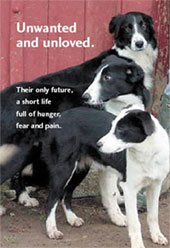 It is through YOUR kind donations that the ACS can continue caring for abused, neglected and abandoned animals. In 2014 our veterinary expenditure alone exceeded €40,000. The sanctuary food bills exceeded €30,000. We desperately need your support to continue our work. No matter how small, every cent helps. Your contribution saves lives which otherwise would be needlessly lost. We are most grateful for your financial support. By helping us, you too can proudly say: Their Lives My Passion.
Please note that every cent of our income and expenditure is verified by our treasurer Brian Foley of OTF accountants, Brian is chartered accountant. In turn, Brian's work is audited by Cuddy, O'Leary and Foley, Chartered accountants and auditors who annually submit all our accounts to the companies office. When you donate to us, you can do so in the full knowledge that YOUR money is used to save lives which would otherwise be needlessly lost.
Your support saves lives. Be part of something positive!
When you decide to donate money to us, or place an order with us, you are automatically connected to our secure server using SSL encryption technology. This ensures that the order information you send cannot be read by anyone apart from our order fulfilment team who receives your order or donation details. To check you are in a secure area of our site please look for the closed padlock symbol in your browser. Your credit card details are not seen or stored by us. They are directly processed by RealEx, one of the largest and most secure payment processors in Ireland. RealEx processes credit card transactions for many of the major retail chains in Ireland. This allows you to donate, or order goods, in the full confidence that your personal details are fully and totally secure.
1. Donate OnLine
| | |
| --- | --- |
| | We accept Laser, Visa, MasterCard and PayPal |
3. Donate by Text
A SPECIAL MESSAGE TO ALL THE PEOPLE WHO SUPPORT AND LIKE US
Folks, today is a very very special day. Our Comreg license to solicit donations by text has been issued. Why is this so very important to us? As you, our supporters, know Their Lives...Our Passion, is what we live or die by. Those of you who have been at the sanctuary have seen first-hand the exceptional care which is put into each and every animal which... comes here. But that carries a price: Massive veterinary and food bills, vets alone cost the ACS over 40000 euro in 2014. Unless we can raise significantly more money, the Cork ACS cannot survive and our mission will come to an end.
But with your help that can be avoided. PLEASE spread the word and help us by using this new fundraising facility. With your help, we can survive and save lives. Without it, we die and so do the animals we could have rescued. We have over 5000 euro in unpaid vets bills but with your help, we can clear those. By using your mobile phone to donate just €4 by simply texting the word CACS to 50300 you too can proudly say: Their Lives...My passion. You will receive a text back from 50300 acknowledging your donation. Thank you so very much.
TEXT CACS to 50300 to donate €4. 100% of your donation goes to the Cork Animal Care Society across most network operators. Some operators apply VAT which means that a minimum of €3.25 will go to the Cork Animal Care Society. Service provider: LIKECHARITY. Helpline: 0766805278
back to top