News & Events
Saved by a Grain of Rice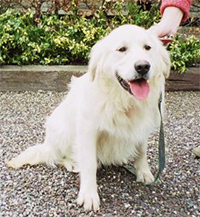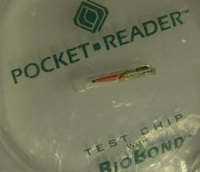 No, we are not kidding. This dog, Jake is his name, was saved by his implanted microchip, the chip itself no bigger than a grain of rice. (see the photo). Jake went missing several days ago and his distraught owners tried absolutely everything to find him. They contacted the Garda, the local vet, the schools, put up posters but no sign of Jake, the beautiful 8 month old Golden Retriever. That is till one of our ACS volunteers heard that a Golden Retriever had been seen straying in her town, which was 20 miles away. She went out, found the dog and took him straight to her local vet who checked him over and in the process scanned him and found his chip! By contacting the microchip database organisation our volunteer was able to trace the original owner who had Jake "chipped". From there on the trail led to real owner who was delighted that Jake had been found safe and well.
But the outcome could have been so very different and so often is. If Jake had ended up in the pound, and his Chip had not been found, the "5 day clock" would have started ticking and after just 5 short days Jake could have been put down. With a destruction rate of 85%! in that pound it's unlikely that Jake would be alive today. Our plea to all of you who read this story is simple: Please don't delay, have your pet "chipped" today. Jake is now back with his owners who say that the money spent on having him microchipped was they best money they ever spent !
The Kylie Experience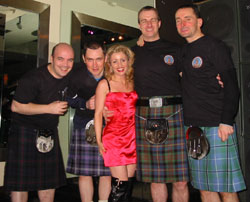 "The Kylie Experience" event in Scotts Bar on Friday the 16th March was a very memorable night for many reasons.
Firstly, many ACS supporters continued the dedication which they have shown to the ACS for many years by coming along to support the event. Many thanks to all of you again.
Secondly, Kylies tribute act were very entertaining, little Rosie(Kylie) and her backing dancers kept the crowd going for a full 2 hours with many of Kylies classic hits - you would think that the superstar herself was up there strutting her stuff!
Thirdly, Scotts Bar were extremely accommodating in many ways and our sincere gratitude goes to the management and staff.
Fourthly, thanks to the 4 scotsmen (pictured with Rosie as Kylie) who were kind enough to help with the raffle!
A Nice Day for Collecting
Yet again the committed collectors came in their droves, dogs in hand, shaking their buckets and doing their best to make the day as profitable as possible for the ACS. A very successful day was spent in Midleton and Mallow on Saturday the 17th February and all types of dogs from poodles to rottweilers could be seen out and about, perfectly groomed for the occasion and earning a buck for the ACS. Many woofs and meiows (i.e. thanks) to everyone, both human and canine from the poor misfortunes who badly need their help. Here's to more successful fundraising occasions. By the way, have you heard about Kylie's no.1 tribute act coming to Scotts on the 16th March? Check out our fundraising page for more details.
The Cruelty Continues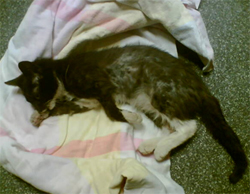 This is "nightstar". She is a twelve week old kitten who was found on the streets of Cork City. Little Nightstar is in a very bad state, her front paw is badly broken, she is extremely malnourished with very little fur due to a severe skin condition. We can only imagine the pain and fear she must have suffered. It is a miracle she is still alive. She is in the vets now receiving the best possible medical attention but it is going to be a long painful process. Once her broken paw has been fixed she will need complete rest. The vet bills to treat Nightstar are going to be in the hundreds, but we think she is worth it. Once again we appeal to the public to stop this cruelty and neglect, please show our animals the compassion and respect they deserve. Don't treat them as objects but as the wonderful living creatures that they are who bring so much joy to our lives.
Please keep little Nightstar in your prayers. If you would like to donate towards her treatment we would be extremely grateful.
They placed their trust in the Trust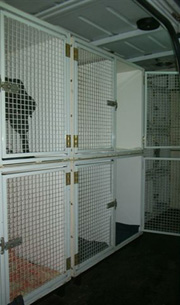 Place your trust in the (Dogs) Trust. Well, that's exactly what they did. For yet again in answer to our urgent pleas the Dogs Trust came to our (their) rescue. Like all reputable organisations we in the ACS are often reduced to the state of robbing Peter to pay Paul, something which we are very good at, but even Peter and Paul have their limits. Literally, there was no more "Room at the Inn". So, we had to find another "Inn" and that's what we did. The photo shows the interior of the beautifully equipped Mercedes Sprinter Ambulance, fully heated and air-conditioned with all it's specially fitted cages to hold the dogs safely during the journey. The ACS (your ACS) is held in high esteem ny the Trust and so it was that these guys started the journey to their new life on a cold/windy and dark January morning. At the end of the journey, lays hope, a new home and a place to call their own. To our precious charges we say: Au Revoir Friends, we will never forget you, to the Dogs Trust we say: Again you came when we needed you most, a truer friend we never had.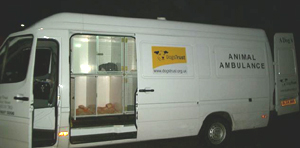 A look at paradise?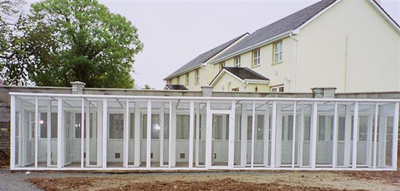 Paradise? Well, it all depends on who and what you are, but if you were an ACS rescue cat this would probably be as close as you'd get to it, without leaving this world. This state of the art cattery unit was donated to the ACS by a corporate sponsor and what a unit it is. Fully double glazed, and totally made of the highest grade uPVC it meets and beats all standards in the UK. (It will probably come of no surprise to you that we in Ireland haven't got any standards.. Anybody can start a cattery here with two rain barrels lashed together and call themselves a boarding cattery). To say that we in the ACS are proud of this unit is an understatement, of these top of the range Pedigree Pens units there are only three (3)! in Ireland and the ACS unit is the only one in the country which is exclusively dedicated to rescue work. No pampered boarders here. Sadly, it will never be big enough. No matter how hard we try to deal with the abandoned and neglected cat problem it far surpasses any ability we might ever have to bring it under control. For that to happen we need YOU. Please take a minute and sign our petition, our home page gives you the details. NEVER forget YOU can make a difference and your contribution is measured in lives. So, join us, and make our slogan your slogan too: Their Lives... Your Passion.
How did YOU spend your day?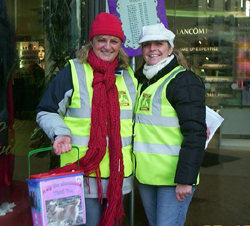 Well, we don't know about you but this is what the ACS gang got up to. Our December 31st, New Years Eve street collection in Cork City. As the photo's show, Happy faces all around and believe it or not, that little dog in the photo was only rescued 2 hours earlier. We in the ACS do not leave a stone unturned to get the Spay and Neuter message out, come hell or high water, and our big roll banner makes it pretty clear that we mean what we say. THANK YOU to all our volunteers who yet again used this, the last day of the year, to say: Their Lives... Our Passion.
Happy 2007 from all of us at the ACS.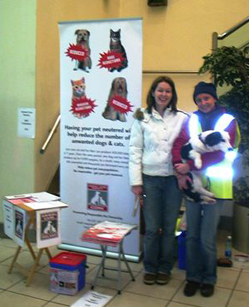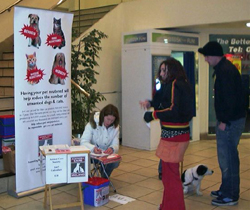 You Can Make A Difference
Thank you for wanting to help. Please click on the link below to help us and all other welfare groups take positive action to get the government to wake up to it's responsibilities in relation to companion animals. PLEASE do it NOW. It's the best 2 minutes you will have ever spent and your vote WILL make a difference.
» Sign The Petition - Click Here «
If you wonder why you should sign this petition, log on to www.anvilireland.ie and read the pound animal destruction figures but be warned, they are grim, like the pound in which 99% of all incoming animals will be killed.
Corks Red FM broadcasts "No Pets for Christmas" Appeal
Listeners to Corks popular radio station Red FM heard an appeal from our ACS chairman when he was interviewed by Red FM's Victor Barry during his evening program on Thursday. The message came out loud and clear, Don't do it, wait till the New Year and then carefully consider if this is still something the whole family wants to really do. The dreadful council dog pound statistics were mentioned, running at destruction ratio of 85%! AnvilIreland.ie was mentioned as the website which holds a goldmine of information for all people interested in what really happens behind the scenes in our "Booming Celtic Tiger" country. Our goal is simple and clear: Give our companion animals the respect they deserve and together we can make this world a better place for all of us.
The Cork ACS live on Air on 103 FM local radio
We leave no stone unturned to get the message across: DO NOT GIVE PETS AS CHRISTMAS PRESENTS. As in previous years our chairman was contacted by 103 FM in Cork with a request to go live on Air from their Bandon Studio to broadcast our appeal to the large listener community of 103 FM. With presenter David Young during his half our on-air session that appeal went out, l oud and clear. General animal welfare matters weren't forgotten... and the 103 listeners called, text'ed and phoned into the studio with their support. It goes to prove, we can and will make a difference, our companion animals deserve no less.
25 Young Cats Make the journey to the UK
It was a lucky day indeed. 25 young cats made the journey to the UK to be given a chance on kind, caring and loving homes. The photo shows the ambulance at arrival of the UK rescue centre who had so kindly offered to help find them those homes we here with the best will in the world cannot provide.
For these youngsters, a new future awaits and we are most grateful to the UK organisation who helped us to make this dream come true. For these cats, Chrismas 2006 will come early and it fills our hearts with joy that we could make this happen. The ACS wishes to say a heartfelt Thank You to everybody who tirelessly worked to make this dream come true.
To our News Archive (Full of interesting stories!)
« Older News Stories | Newer News Stories »
back to top