News & Events
3rd Annual ACS Christmas Dinner Dance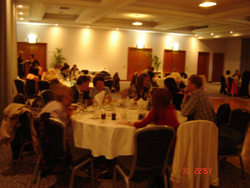 December 2nd saw the arrival of the long awaited ACS Dinner Dance night. As the photo shows, smiling faces all around. And no wonder, an excellent meal, good music and fantastic raffle prizes turned a wild and stormy night into a lovely evening for all those who attended. New friendships were made and old ones renewed and everybody present had a fabulous time. So, if you weren't there, don't miss the chance to attend next year and who knows, that first raffle prize of a super 20" Phillips flat screen TV might leave the room with you!
St. Johns College Cork honours Ms. Regina McCarthy for her care and compassion to animals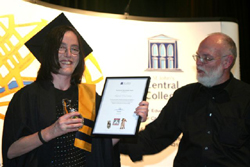 Pictured here is Regina McCarthy receiving the first ever Animal Care Society award trophy and certificate from ACS chairman Albert Kleyn during the college graduation ceremony in Cork City Hall. Regina received her award for her great commitment, enthusiasm and dedication to the animal care course; demonstrating personal, social and professional development and presenting a compassionate approach to working with and caring for animals.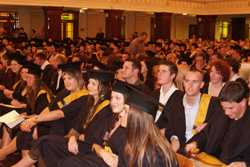 The Cork ACS congratulates MS. McCarthy and her fellow students who graduated from the Animal Care course. It is with people like Regina and her fellow students that we have hope for the future, hope for a kinder and more compassionate society in which all animals will be treated with respect and dignity.
We are facing a crisis.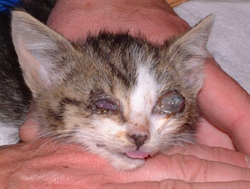 As you, one of our regular visitors know we in the ACS rescue without regard to what species needs our help and our track record bears this out. But lately we seem to be inundated with calls for help from the public to do with cats and kittens. It seems that in spite of all we do and all the appeals we, and other welfare groups put out, people are not spaying/neutering their cats. The results of this neglect are devastating, scores of kittens dying all over the place. And their death is not pretty.
We normally do not show photos of this nature but to show the extent of the nightmare out there just look at these. 8 weeks old and blind, no eyes to ask for mercy, no eyes to ask why we humans allowed this to happen. As awful as it might seem their death at the hands of the vet was kinder than what would have happened had we not found them and prevented a slow lingering death. Please don't say that this is nature, it's neglect by us humans who allowed this to happen. Perhaps George Bernard Shaw summed it up when he said: "Our worst sin towards our fellow creatures is not to hate them but to be indifferent to them, that is the essence of inhumanity".
Please help us by donating on-line so that we can continue our work to prevent the suffering you have just seen.
Room Service? Please send up some Whiskas to Room 50!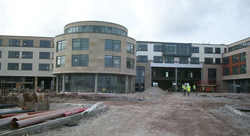 He is in room 50 the voice said, and we badly need help. For a moment I wondered, yes, I was fully awake alright. Who was she and where on earth was room 50 ? Curious ? Just read on. She was a cat, so I was told and room 50 was one of the rooms in the new Airport business park hotel at Cork Airport.
They had stopped work on that room so as not to disturb her but she had to be removed ASAP. Will you help Gerry McNamee, hotel project construction manager, asked ? I've tried everywhere but nobody wants to know. Where we can we never turn down a request for help so one of our volunteers drove to Cork to see about the "guest in room 50".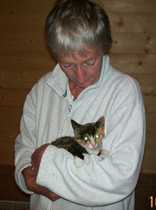 As the photo shows, the hotel is in the middle of a building site and is under construction. Once on-site our volunteer was kitted out in safety gear, helmet and all, and was allowed to go up to room 50 which was on the second floor of the hotel to be. Once inside the room a small scared tortoiseshell kitten looked me, her rescuer in the eyes. 12 weeks, if that, I thought. How that kitten got into that room will forever remain a mystery, the hotel was still a shell to be kitted out and she would have had to go up several flights of stairs to get to where she was.
To the real credit of the workers on-site, they had cared for and fed her and believe it or not, someone had even given her a cardboard box with sand to use as a litter tray ! Who says that construction workers do not care should have seen what was done for that kitten. With some effort the kitten was caught and safely put into a carrier for a check by the vet and from there to a place of safety to start the hard task of trying to tame it so it can become a much treasured and loved companion.
Room 50 is now empty again but we will forever remember its very first guest.
Lucky Break For "Lucky"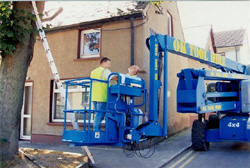 "Please can you help?" the voice on the phone said. "There is a cat stuck high up in a tree for the last 4 days!" All appeals on local radio had fallen on deaf ears, nobody was prepared to help. Well not quite, with 10 minutes of getting the request for help one of our ACS volunteers was on the way to the cat which was 70 miles away from him. Once onsite ladders were raised but it became clear that the cat could not be reached even though our volunteer scaled the tree to the 35 foot level, the last few feet were too dangerous to climb. To "aid" matters, the tree had power lines running through it, and in case you wonder, those power lines were live! Closing the road off with the help of concerned bystanders was bad enough... getting the Electricity Board to remove power from the neighbourhood was a wee bit too much to ask. So, plan B was put into action, just look at the photos and you will see what we mean.
The black cat was named Lucky after his successful rescue, and lucky he was, the fire brigade, local SPCA, council, you name it, had refused to do something (anything) for him. So, 4 hours after we got the call Lucky was taken to the vet and treated for exhaustion.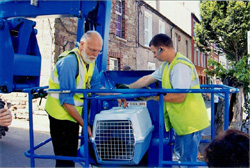 Lucky for "Lucky" that a small voluntary organisation called the Animal Care Society, cared enough. With thanks to Irene, a bystander who took the photos and a BIG BIG THANKS to the finest Tool Hire Company in the world: OK Toolhire, of Copley Street in Cork. If ever a company deserved its name, it's them. When asked for help they came out within the hour and REFUSED to accept payment for the machine! As the cat was at the 40 foot level, it could not have been done without them. To Graham and Kevin from OK Tool hire, from Lucky the lucky cat, a Big thank you for helping to save my life.
ACS and Maxi Zoo working together to Promote Responsible Pet Ownership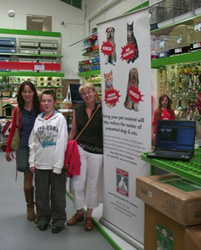 Maxi Zoo, a brand-new Pet store has just opened it's very first Irish branch in Ballincollig, Cork. As part of the grand opening days the ACS was invited to participate and tell the public about it's work and talk about animal welfare matters in general. ACS volunteers Eleanor, her son and Marie Ryan, ACS office manager are pictured here ( L to R ), beside one of the roll banners the ACS uses to promote it's spaying and neutering message.
Many interested members of the public stopped to chat to our volunteers and the vital need for people to neuter their pets and the benefits were explained in detail. Maxi Zoo set up a large container at the shop entrance and shoppers were able to donate food to the ACS to support it's work. The day was very well received and deemed a great success by all involved. We would like to thank the management and staff of Maxi Zoo for the opportunity to educate the public about the responsibilities of being a pet owner.
Well Done Sophie & Rebecca!
The Clyde Fund and the ACS would like to say a special thanks to two very special 12 year old girls called Sophie & Rebecca. Without any help, not even from their parents, they organised a fundraiser in Togher in aid of The Clyde Fund and raised €175.00! This money will help care for animals injured in a road traffic accidents thanks to these two girls efforts.
Well done and thank you very much Sophie & Rebecca from everyone in the Clyde Fund/ACS.
One Thousand Miles Of Happiness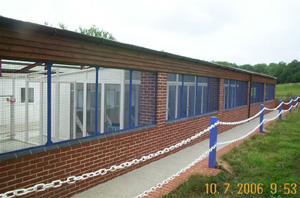 One thousand miles of happiness? A strange heading for a rescue story I hear you say. Curious? well, read on and find out more. As you, our regular readers well know, all of us in animal welfare are dreading the late spring, summer, autumn months. No, we do not hate the sun, on the contrary we like it as much as you do. But those months, to all of us in animal welfare mean one thing: An influx of kittens in need of care and homes. Good Homes above all are in such short supply that we often do not know where to turn to anymore. That's precisely the position in which we found ourselves in last week. 23 kittens, 2 mums, and no homes. Good homes that is. We do not rehome to the "Ratters and Mousers" brigade. We in the ACS rescue and try to give them more than what they had, not less.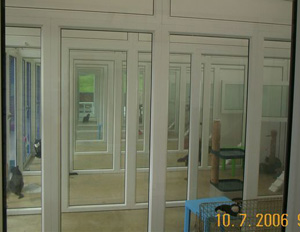 Our chairman, who lived in the UK for a long time, and has many connections with rescue centres, called around an explained our dire predicament. Well, an old and established welfare organisation came to his rescue and offered to take our 23+2. So, the Jeep was kitted out as an ambulance and the 500 mile journey (each way) was made. And what a journey it was, all cages/carriers has litter trays and the Mums and kittens were cared for every inch of the way. The photo's taken upon arrival show some of the cattery buildings where our precious crew went, suffice it to say that our chairman, who personally did the journey, came away green with envy!
It is our dream that one day our (your) ACS will own such a facility so that we can give life where only death was in store.
Please help us in one of two ways: Offer a kind and caring home to one of our many cats and kittens, or support us financially so that our dream will transform itself into cement and stones and the 1000 miles will become but a few tens of miles.
Sanctuary Update
The Animal Care Society is leaving no stone unturned to find a suitable site for our new animal rescue centre. As you know it is our dream to buy a site but it is a fact that this dream cannot be made a reality without regular financial support.
Despite the closure of our dog sanctuary facility earlier this year we are without a doubt busier than ever! Our expenditure at the end of April, including veterinary bills, food and and boarding charges has already exceeded 48,000 Euro. We are certainly saving lives but we could do so much more if we owned our own facility. It is only with your continued support and your regular donations that we can make this happen. Please help us to save more lives and be part of something positive by making a donation.
We would like to thank all the people who have donated their time and money in support of our sanctuary project. If you want to know more and feel that you can help, please contact us today.
They went the Extra Mile!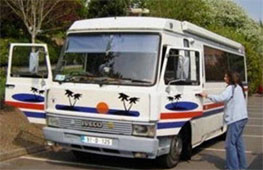 No, your eyes are not deceiving you, Palm Trees they are alright! And talk about travelling in style! But that's exactly what happened; the 25 dogs and puppies on board did just that. Due to the fantastic connections the ACS has with the UK based Dogs Trust these guys went to new and super homes in the UK. Incidentally, did you know that the Dogs Trust is the UK's oldest Dog charity?
Anyway, one of the most prestigious rehoming centre's of the UK was anxious to take our travelers and thus help the ACS take in more dogs, which are so desperately in need of our help. The ACS wishes to say a big Thank You to Lindsay White of Celtic Animal Life line, owner of this modified camper van in which the dogs traveled in style.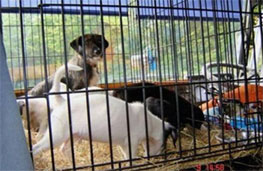 This vehicle has it all, the only thing which we did not see was the on- board bar, serving Bonios, Chum and Good Boy drinks, but I wouldn't be at all surprised if Lindsay kept that one under lock and key so as to not tempt our travelers too much. We at the ACS say "Au Revoir" Guys may the road rise to meet you and may your new human companions treasure you as much as we did.
Minister Roche to Introduce New Standards for Dog Breeding Establishments
Mr. Dick Roche, T.D., Minister for the Environment, Heritage and Local Government today (30 May 2006) announced that he intends to implement the recommendations in the report of the Working Group which was set up to review the management of dog breeding establishments.
PRESS RELEASE 30 May, 2006
Regulation of puppy farm industry is welcomed
A leading campaigner for the regulation of Ireland's puppy farms has welcomed today's (Tuesday 30 May 2006) announcement by the Minister of the Environment Mr. Dick Roche TD that he intends to implement the recommendations of a working group appointed to look into the issue.
Mr. Pete Wedderburn of the National Stray Dog and Cat Forum said it was very important that the Minister should now follow up this positive announcement by speedily bringing in the new regulations and acting firmly to prevent any further suffering of animals in unregulated breeding establishments.
"Over recent times Ireland has become known as the puppy farm capital of Europe, an unwanted distinction that is very unfair and damaging to the many reputable dog breeders affiliated to the Irish Kennel Club." he said. "I am delighted that the Minister of Environment has announced that he is going to implement the recommendations made in the excellent report that was commissioned by his Department last year."
Mr. Wedderburn said that implementing the recommendations of Working Group on the Review of the Management of Dog Breeding Establishments would at last create a legal foundation for eradicating the darker sides of the dog breeding industry.
"Ireland has suffered from very weak animal welfare legislation and much work still needs to be done in a range of areas. But large-scale unregulated dog breeding in so-called "puppy farms" has been at the top of the welfare agenda for a long time. It is directly connected to the crisis of unwanted dogs and the high rate of stray dogs being euthanased at dog pounds across Ireland," he said.
Mr. Wedderburn said Minister Roche's decision to make his announcement during Spay Week Ireland 2006 was very welcome as it represented an important advance towards achieving the annual campaign's objective of reducing Ireland's high dog destruction rate.
"Dog breeding is something best left to properly experienced and regulated professionals, so we wish the Minister well with the practical task of bringing the recommendations into action," he added.
To our News Archive (Full of interesting stories!)
Newer News Stories »
back to top